Search and Book "The Linen Apartments"
During the 19th century, Dunfermline became a world leader in the manufacture of table linen. Although damask weaving had been introduced in the town early the previous century, it look some time to develop. The scale of this could not have been achieved without the introduction of steam power and Pilmuir Works is credited as being the first of Dunfermline's power loom linen mills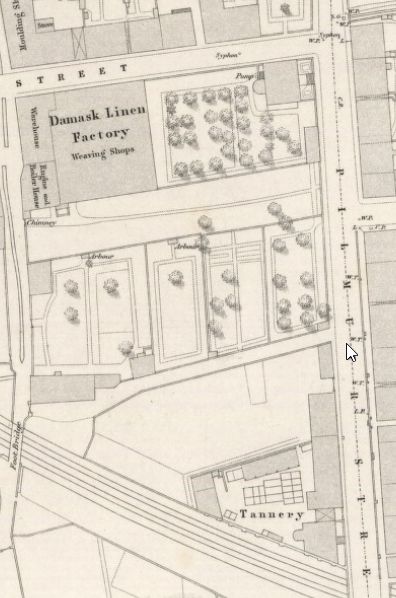 The Linen Apartments building is the oldest one on the site. It dates back to 1816 and was known as the warehouse in the north-west corner. To it was then attached an engine shed (current chimney added later) and factory, as can be seen in the 1854 Ordnance Survey plan
To the east is a house and garden, facing onto Pilmuir Street. In the centre is largely laid out as gardens, possibly attached to Railside Cottage (south-west corner).
It was in 1849 that Andrew Reid successfully established the use of steam powered looms on the site, the first in Dunfermline to do so. By 1860, there were 200 power looms in operation at Pilmuir. Activity would appear to have been concentrated in this north-west corner of the current site until the later 19th century, when substantial expansion began, although some work was done (it is unclear what) by Robertson and Orchar (a Dundee-based mill-engineer and textile machinery manufacturing partnership with an architectural department) in the 1860s.
The period 1883-1901 saw expansion on a massive scale. The architect was Thomas Hyslop Ure and he designed the Pilmuir Street elevation, a 28 bay, 3 storey Italianate frontage to the site, weaving sheds and the iconic polychromatic red and yellow octagonal-plan brick industrial chimney. At this point in time, there were 700 looms and over one thousand people employed.
Previous Owners of Pilmuir Works
The companies who have run or had an interest in Pilmuir Works.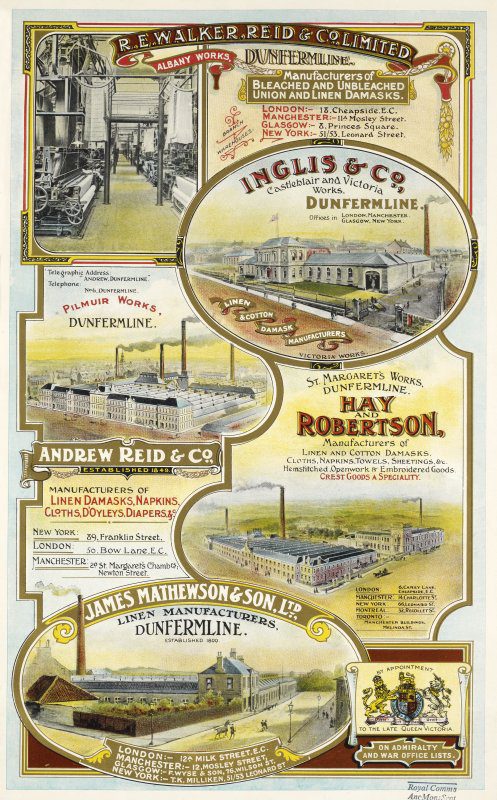 Andrew Reid & Co.
Founded by brothers, Andrew Reid (b.1805) and Henry Reid (b.1808), they established their business on the site in 1849 and are credited as having successfully introduced steam power to the site, the first in Dunfermline to do so. Henry Reid subsequently left in 1860 to set up Abbey Gardens Works
David Inglis and Sons
It is not clear whether this firm had any direct connection with Pilmuir. However, one of its partners, David Gavin Scott, would appear to have unsuccessfully experimented with steam power at Pilmuir in 1847.
Hay & Robertson Ltd
HAY & ROBERTSON were Linen and Cotton Damask Manufacturers and Embroiderers, They already owned the adjacent St. Margaret's Works  and they built the bridge over Foundry Street to link their two premises. This was known locally as 'The Bridge of Sighs'. Their Caledonia Works were destroyed by fire. The following year, they successfully acquired Pilmuir Works from Andrew Reid & Co. 
Dunlop / Duracord
Dunlop acquired Pilmuir Works in 1947, who used it to produce cotton tyre cord. They subsequently sold it to Duracord, who produced a synthetic product for the same purpose.
Duracord went into receivership in 2005, leading to the closure of Pilmuir Works.
Byzantian Developments Ltd
In 2017 Byzantian Developments Ltd acquired the site to redevelop into residential and commercial units and also to regenerate the site and restore Scotland's iconic built heritage. This was welcoming news to the local community as the building  had laid empty since 2005 and had become derelict and fell into disrepair following numerous fires. After 5 years of planning and building the new development "The Linen Quarter"  were completed.
StayDunfermline Limited
In early 2021  StayDunfermline limited purchase the warehouse and "The Linen Aprtments" were born.  Check out here how the Apartments took shape.